COLLECTOR ALERT! - NEW FAKES!
Fake Large Deschler
: Fake Small Fuess
Until recently, almost all of the fakes of the Golden Party Badge have been fairly poorly done, as you can see in the fake gallery.
In 2002 a new and convincing generation of fakes appeared in England and the United States, as well in on-line auctions. They consist of a matched pair of Golden Party Badges - a large Deschler badge and a small Fuess badge. They bear the same number, often attributed to a senior member of the SS, and sometimes are sold in a fake red morocco leather case.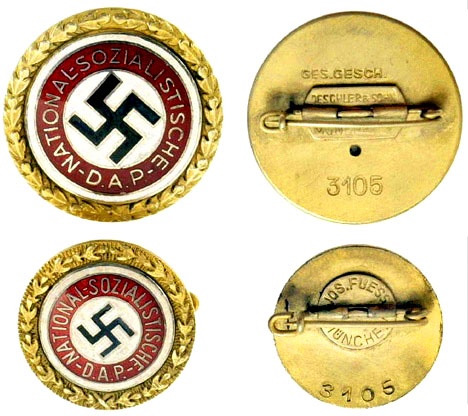 New Generation of Fake Badges
These badges have fooled many collectors and experts, but in spite of their excellent appearance, there are several flaws that distinguish them from genuine badges.
Thanks to John, Robert and Bob for help with the photos.
Click on the following link to have a look at these badges in more detail:
See the details