A Site for Collectors and Historians


INTRODUCTION
The Munich firm of Deschler & Son was one of two manufacturers of the smaller 25 mm version of the Golden Party Badge made for civilian wear. (The so called "25mm version" actually measures 24mm, but is so widely referred to as 25mm, I will refer to it that way.)
The 25mm version by Deschler is similar to the larger 30.5mm size. It too had the standard enamel Nazi party membership pin at the center surrounded by a thin white enamel border and a golden oak leaf wreath. The badge was fire gilded brass with the metal edges, letters and highlights in the enamel center silvered. As in the case of the larger version, frequently the silver plating of the letters wore off leaving the brass to show through underneath.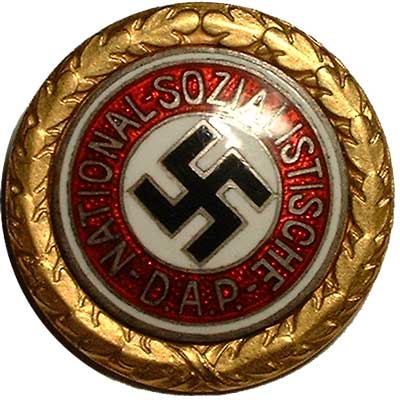 THE FACE OF THE BADGE
The wreath in the 25mm version by Deschler only has eight leaves per side, unlike the larger version that has nine.
The leaves also should not have an overly pronounced center ridge, and should go all the way to the edge of the badge without a visible border.
Unlike the 30.5mm version, the "O" in "SOZIALISTISCHE" is not round but oval. Unlike the Fuess version of the small badge, the swastika doesn't float in the white field, but touches the outer ring of silver.
The hyphen or dash between "NATIONAL" and "SOZIALISTISCHE" is shorter but still mostly overhangs the "L". The lettering on the face is different from both the large Deschler badge and the small Fuess badge. It has a very characteristic "S".
The red enamel should be translucent like red glass, and raised dots or stippling should be visible underneath.
THE REVERSE OF THE BADGE
Numbered Badges
An original Deschler 25mm GPB frequently has a blank reverse with only the member's Party number, but it also occasionally has the maker's name either on the pin plate or in a small recessed box above the pin.
The numbers are usually impressed in a straight line below the pin using a very rounded font, however a few examples exist with the numbers following the bottom curve of the badge, like a Fuess badge. Many have the hole on the reverse for hot gas to escape during the assembly process. This hole is not always in the same place, and sometimes nicks the pinplate as shown below.
The small version was not made with a military style vertical clasp, but it is known to have been produced with both a screw-back and a buttonhole tab attachment for the lapel. Like the larger Gold Party Badges, the pins frequently broke off and period repairs are common.
| | |
| --- | --- |
| | |
| Small Deschler badge with maker name on pinplate. | Small Deschler badge with no maker name. |
| | |
| Honour version of the small Deschler badge with the maker name raised in an inset box. | Seldom seen numbers that follow the round edge of the badge. Also note how the gas vent hole nicks the pinplate. |