TAMIYA: #14109 1/12 Kawasaki Ninja ZX-RR
May 13, 2007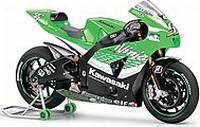 It has been a long time since the last time a Kawasaki racing bike was release by Tamiya, the #14028 KR500 GP Racer, and it is nice to see Tamiya going beyond another Honda, Yamaha, and Suzuki.

The ZX-RR will be released sometime in June in Japan and will have a MSRP or ¥3,500. Unfortunately, thats another ¥300 more than #14108 and ¥500 more than #14107. It will be interesting to see how Borgfeldt Canada prices the ZX-RR

There will also be a fork set, #12619, for the ZX-RR and will have a MSRP of ¥1800. The fork set will be released at the same time as the ZX-RR kit.




Borgfeldt Canada: Has The Insanity Finally Ended?
April 15, 2007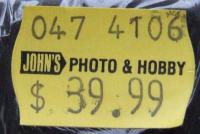 Back in 2003, the prices of Tamiya kits in Canada ascended to a level where I no longer would consider buying a Tamiya kit locally unless I stumbled on a great deal. Borgfeldt Canada raised wholesale prices to obscene levels and it got to the point where the local price was 200%, and more, than the MSRP in Japan. Needless to say, I placed a lot of mail orders with Japanese retailers in the last four years.

However, on Friday I saw a sign that the insanity could be over. While at John's Hobby Shop in Toronto, I saw Tamiya's new Repsol Honda RC211V '06 kit (#14106) on the shelf. I picked it up intending to just look it over and plan to add it to my next order, until I saw the price. I was pleasantly surprised to see not the expected $55-60Cdn price, but just $39.99Cdn for this ¥3000 ($28.55Cdn) kit. While still not like the good old days of 1998-2001 when kits were on par with Japanese MSRP, its nice to see more reasonable pricing. Yes, I bought the kit!




Tool: Watch Maker's Vise
February 20, 2007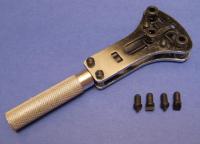 While at a local surplus store, I found a great Watch Maker's Vise that will come in handy for holding small parts while working on them. The tool has three anchor points that are adjustable to hold itemd about 12mm to 40mm in diameter. The anchor points accept dowel pins and the tool included four types of dowel pins for different holding abilities.

My main use for this tool will be for holding disc rotors that need to be drilled. Click for more...


DVD: The Doctor, The Tornado and the Kentucky Kid
February 4, 2007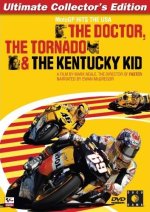 While checking out HMV at lunch time the other day, I stumbled upon an interesting looking release under 'General Intrests', a documentary about the 2005 U.S. MotoGP at Laguna Seca. At just $24.99Cdn, I grabbed it.

The release includes two DVDs. disc1 is the documentary and runs for 104mins and talks about MotoGP racing in general and follows the whole race week at Laguna Seca. Disc two provides numerous angles during the race itself.

Click for more...


TAMIYA: #14107 1/12 KONICA MINOLTA Honda RC211V '06
February 4, 2007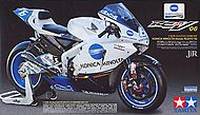 Although spotted on the Tamiay website a few wekes ago, Tamiya is showing the new 1/12 KONICA MINOLTA Honda RC211V '06 at the Nürnburg Toy Fair. Hobby Link Japan lists the release date as sometime in February 2007. MSRP will be 3000yen. (Tamiya America says SRP will be $47US vs. $25US in Japan)



XTREME MODELLING: Ultimate scratchbuilding
May 31, 2006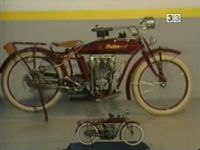 For those of you toying with the idea of scratchbuilding a motorcycle, you might want to watch this.
Here is a video showing Pere Tarragó's workshop and creations...





HOW-TO VIDEOS: Testors ScaleWorkshop Videos
May 21, 2006
For those just starting in the hobby who would like to see how things are done, rather than just read about it. Testors has a series of free on-line instructional videos demonstrating various aspects of modelling. Although the topics concentrate on aircraft modelling, a lot of material is applicable to all modelling. Videos can be found here...




TIP: Painting Caliper Lettering
May 20, 2006
I've added a new tip for painting the sunked and raised lettering one finds on some calipers and elsewhere on 1/12 motorcycles. Details can be found here...





R/C Ducati 999: Need a change from static modelling?
January 1, 2006
Tired of making vroom vroom sounds while looking at your static motorcycle model collection? Thunder Tiger have a radio controlled 1/5 Ducati 999. Yes, 1/5 scale! And it gets even better, it isn't electric, it has a nitro gas model engine. Check out the review and pix at the RC Bikes website... And be sure to sure to watch the video of an R/C bike running...




DIORAMA: Some experimenting
December 11, 2005
Not much motorcycle modelling getting done these days. However I have been experimenting with some model railroading supplies for use in dioramas. I've been casting some 'rocks' for use in the ground work and experimenting with creating realistic foliage. I'm pretty pleased with the results. Here is some shubery.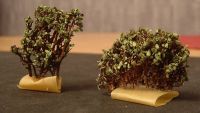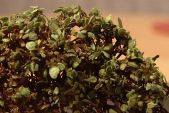 TAMIYA: Tamiya's 100th motorcycle kit
April 17, 2005
With the release of Tamiya's 100th kit, they also take a moment to thank us motorcycle modellers for making it possible. Read it here...

Want Better Bikes?


Although I'm not a retailer, I occasionally use eBay to auction off kits that I'm no longer interested in. Here is a list of my current eBay auctions...
Latest Kits
Tamiya


LCR Honda RC211V 2006 (#14108). #27 Casey Stoner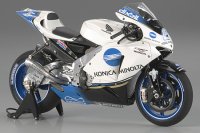 Konica Minolta Honda RC211V 2006 (#14107). #6 Makoto Tamada



Repsol Honda RC211V 2006 (#14106). #26 Daniel Pedrosa



Yamaha YZR-M1 50th Anniversary Valencia
(#14105). #5 Colin Edwards



Yamaha YZR-M1 50th Anniversary USA "Inter-coloring" edition
(#14104). #5 Colin Edwards (No Rossi markings)



D'Antin Pramac Ducati GP4 '05 (#14103). #44 Roberto Rolfo



AKAI Yamaha YZR500 1980 (#14102). #7 Barry Sheene



Ducati Desmosedici (#14101). #12 and #65