2004 Award recipients
(Please click on each name for a biography)
Rev. Mpho Tutu - Woman of Distinction
Jacqueline Herman - Education
Cheryl Levitt - Health
Thembi Nyandeni - Performing Arts
Amanda Uys - Community Service

Friendship Awards
Leila MacKenzie
Kay McConney
Jackie Richardson
Noelle Richardson
Nancy Ruth


Rev. Mpho Tutu

In 1999, Mpho Tutu entered Episcopal Divinity School in Cambridge, Mass., stretching the 3 year program to 4 years to accommodate a year that she and her husband spent working in South Africa.

In January 2004 Mpho Tutu was ordained a priest by her father Anglican Archbishop Emeritus of Capetown and Nobel Peace Prize Laureate – Desmond Tutu. The celebrated prelate, now 72, played a vital role in the decades-long battle to defeat apartheid in his homeland, South Africa. He also inspired his youngest child in her ultimate choice of vocation. "It's hard to live with a person who so obviously delighted in what they did and not have something rub off," Tutu, 40, said of her father. It isn't difficult discerning whose daughter Rev. Tutu is. She has her father's warmth, impish humour and rollicking laugh.

Asked what kind of work interests her most, Tutu said she is "drawn to ministry with women, helping women nurture their spirituality, their prayer life and a real relationship with God."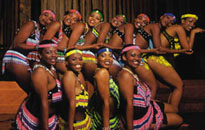 UMOJA -
The Spirit of Togetherness

UMOJA - The Spirit of Togetherness is a pulsating musical celebration of South African song and dance. With a cast of 40 of South Africa 's brightest and most versatile young performers, singers, dancers, drummers and marimba players.

The show is a joyous celebration of dynamic talent, thrilling energy, great voices and sensual dancing sweeping across the bright and vibrant South African traditional musical landscape. The inspiration of Todd Twala and Thembi Nyandeni (of Ipi Ntombi fame) the show was created to express their heritage and to create opportunities for underprivileged South African youth.

UMOJA opened at London 's Shaftesbury Theatre after a successful run in South Africa, captivating UK audiences and press. In the past two years the show has played to standing ovations in 22 countries across the globe.