REVEREND MPHO TUTU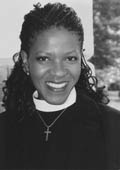 Ms. Mpho Tutu is a Clergy Resident at Christ Church in Alexandria, Virginia.
---
In 1999, Mpho entered Episcopal Divinity School in Cambridge, Massachusetts, stretching the 3 year program to 4 years to accommodate a year that she and her husband spent working in South Africa. She graduated in May 2003 and was ordained to the priesthood in January, 2004.

Mpho was ordained by her father, Anglican Archbishop Emeritus of Capetown and Nobel Peace Prize Laureate – Desmond Tutu. The celebrated prelate, now 72, played a vital role in the decades-long battle to defeat apartheid in his homeland, South Africa. He also inspired his youngest child in her ultimate choice of vocation. "It's hard to live with a person who so obviously delighted in what they did and not have something rub off," Tutu, 40, said of her father.

Born in London, England Mpho was educated in England, South Africa, Lesotho, Swaziland and the United States. She has visited most of Western Europe, Southern Africa, and much of North America.
Prior to her seminary enrollment Ms. Tutu held the position of Director of the Discovery Program, a children's ministry of All Saint's Church in Worcester.

For five years she was Director of The Bishop Desmond Tutu Southern African Refugee Scholarship Fund, an organization which provided college education to refugees from South Africa and Namibia. Prior to that she worked for the Get Ahead Foundation; she helped to raise money to build schools in rural South African Communities.

Ms. Tutu has preached and spoken at churches, schools, and colleges, and for civic organizations throughout the U.S. and Canada, including Delta Sigma Theta Sorority, Inc., the NEA, and Oxfam. She is a member of the Mother's Union – a Christian organisation which promotes the well-being of families worldwide.

Asked what kind of work interests her most, Tutu said she is "drawn to ministry with women, helping women nurture their spirituality, their prayer life and a real relationship with God."

Ms. Tutu is married to Joseph Burris; they have one daughter, Nyaniso.