In New York we were for the Labour Day (the first weekend in September), and not the one in May, because Labor Day in North America is at fall. Not in the spring, as it is around the world.
From the first to the last moment, it was very exotic. For egsample, in the first half hour of our presence in New York City, we were helpesly stucked in the traffic, Ivana found the condom in the taxi... After that, we did not touch anything around and we avoided snooping around too much.
The first two days we spent in the New York Hilton Hotel on 42nd street and 7th avenue (because we are buddies with Mr. Hilton), and then we spent one night at aunt Tanya in Queens (because we are buddies with Timotiye).
New York we walked, walked and walked, we used subway a litlle, we used bus once and once we drove (thanks to Timotiye).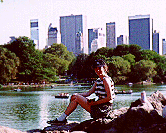 Central Park
Antoher favourite place for walking: especialy if weather is nice and day is good. Third day of uur stay, we walked around 22km (15 miles), and most of it in Central Park.