News Archive



March '98:

Canada Music Week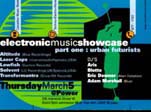 Two of our groups participated in this annual festival's Electronic Music Showcase series hosted by DOV/Nice + Smooth's Gerald Belanger. The new techno group, Transformantra performed Thursday March 5th at Power along with 4 other live acts and four DJs.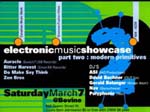 And on Saturday March 7th, Scott MacKay presented his percussion-oriented Bitter Harvest project during part 2 of the showcase at the Bovine Sex Club which was covered by Much Music's Fax show. Bitter Harvest warmed up for this show by doing a live performance on CIUT's Feedback Monitor show and an in-store gig at the downtown HMV. He also played Reverb on Saturday March 21st.


---




Dec '97:

DR. NUMA
one of Japan's Yoshimi Niinuma 's alter egos, proved quite popular on the Tower Record chain's listening posts during June as the lead-off track of the 6th volume in the Natural Born Techno compilation series. Dr Numa's new banging sound of hard techno-house and acid-techno again challenged the pop world when his 2nd full length release, Lead was featured on Tower's listening posts during October and sold 1,200 copies! Lead was promoted by Bayside Distribution's ads in Pulse and Rolling Stone. Techno ads in Rolling Stone you ask? Yes, in a year when Moby has remixed Aerosmith and David Bowie thinks he can sculpt hardcore breakbeats, it's time for North America to hear about some quality underground electronica! Lead is also a success in Italy where it was ranked #1 in the Italian Underground Radio Chart in May and stayed in the top 5 for six weeks. Niinuma has previous releases of techno, trance and house from KK Record's Nova Zembla and Ultraxx labels under the names Sympathy Nervous and 02 Soul.

G - FORCE
The album ELECTRONIC LESSON PART 1 was #1 in Sven Vath 's DJ chart for the German techno mag Groove. ELECTRONIC LESSON PART 1 was also #4 in Hardfloor's Oliver Bondzio's DJ chart.ELECTRONIC LESSON PART 1 was voted techno tip of the month in Update mag (NL) in the June issue. G-FORCE is the resident DJ in the techno room at the famous club Bacardi's in Eksel, Limburg (B).

PLASTIC NOISE EXPERIENCE
Electronic-Body-Music favorites, Plastic Noise Experience, returned to KK for their 5th full length release, Rauschen. The German duo have been recording since 1989, becoming popular in the clubs of Europe and North America with their Front 242-styled originals and their cover of Bronski Beat's Why (on their debut String Of Ice). Rauschen continues their melodic style, while they branch out into the syncopated nasty-ness of No Return and the spacious instrumentals I Want You (Part 1) and Stadt Im Schlaf. Rauschen was greeted by huge press attention in Europe with interviews in ORKUS, VERTIGO, NEW LIFE and NEUROSTYLE. Industrial Bible had this to say: "No Return lashes out with a fierce sounding beat that sounds as if it was constructed out of a sample of someone hammering sheet metal... I must say that they do a fine job recreating the same feelings and energy as was felt in the heyday of EBM."

Plastic Noise Experience Discography still available:
Kk 101 String Of Ice CD
KK 108 Visage De Plastique MCD

PWOG to go AWOL?
Rumours from Europe have reached the offices of KK North America about the break up of PWOG! The Dutch group has been at the forefront of underground techno since 1990 when their Exit 23 single sampled Timothy Leary inviting you to "return to the source"- to join PWOG's archaic revival of trance-dance. The founding members' association with Thee Temple Of Psychick Youth gave them an insight into the ritualistic nature of dance rhythms. Their concept of a "tribal house" with roots in ancient music produced their second brilliant single Maenad. This track sampled the remarkable pipe music of the Joujouka musicians, which dates from the Roman-era rites of Pan. The culmination of their early sound research was 1992's debut album Ov Biospheres And Sacred Grooves. This classic's mysterious ambience & slowly building rhythm mantras still sounds fresh today.
The group works notoriously slowly and their history hasn't been without controversies. PWOG turned down an official invitation to play 1997's Lollapalooza, shelving the planned release of a rarities CD and missing a big opportunity to join Orbital amidst all the hype over "electronica". It remains to be seen what will be planned to fulfill their current contract with KK Records.

RIOU
This young Japanese techno artist's last name is Tomita - a name that resonates through the history of electronic music. Now Riou begins a new chapter in his music creation by ending his relationship with KK Records and signing to Silver recordings under the name Holon.
This new Tomita was born and still lives in Osaka, where he creates the futuristic minimal techno that has built up quite a reputation since his debut single. To-To got immediate press attention on it's release in May '95 including Single Of The Week in DJ Magazine.
The strength of Riou's music is the apparent simplicity of his tracks. His beats are minimal and backed by interesting loops. His sound is clean, without the muddy over-processing on tracks from labels like Basic Channel and Sahko. His recent release, Pops is his 3rd album. On Pops his sound is even more stripped-down than before! The techno-house beats on Return 1 and the breaks of Play With Sampler are backed by his trademark avant garde sounds from hums, and loops of resonant frequencies.
A new element for Riou is the drill 'n bass-ish interlude C2, which cuts up a variety of beats and fast forward-sounds, previewing the longer track Sarin by his alter ego Holon on the Silver USA compilation Minimal States Vers 1.0 . Upcoming from Silver recordings will be the debut Holon album The Total Fuckin Revolution Edits and a single Digital Statement 01.

ULTRAXX label
Kk Record 's house label Ultraxx has released the 3rd single from Plastika aka Tom De Neef from Swirl. Shake It is right on time for the new disco-oriented house scene. This vinyl-only release features 2 mixes of a club-friendly house track which samples the Peaches & Herb disco classic Shake Your Groove Thing (which is currently heard in an Intel commercial). The EP also includes two Plastika originals that DJ's will not want to miss: the dubbed house track Daft Dub Grooves and the seriously bass-throbbing Fonky Ass Bassline.
Plastika's last hit single Disco Mirror was licensed in England by Positiva/EMI and by Arcade in The Netherlands. Disco Mirror got great reviewes in Mixmag & Wax magazines. "Brilliant hard disco house...Head straight to Natural Born Grooves' two remixes on the B-Side which give this track the right combination to be massive for a long, long time. Will fill any dancefloor." - Mixmag Sept 07.
"...exactly the sort of thing that you're gonna love." - BPM column Mixology mag.
"Taking a heaping helping of DJ Sneak style disco sounds and mix them with some truly Euro beats and you've got one hell'uvva record." - Wax.

Natural Born Grooves are back with their 2nd Ultraxx single as Wosh. Power To Groove features 3 mixes including the funky Club Mix done with Plastika's Tom De Neef, which is a minimal mix with female vocals. Wosh's Powergroovemix is house-ier, although it's backed by creepy synths. And the Power Of Static Grooving mix is a more chilled vibe featuring jazzy keyboard parts.


---

REVIEWS

Lowground - Sound for Freaks (SIRE003CD)
"You're asking for techno magic when you put Mark Broom and Koen Lybaert (Starfish Pool) to work on the same tracks. The effortless funkiness of Broom's grooves are the perfect compliment for Lybaert's acid-flushed 808-trance repetitions. Both pairs of hands take their turn at dominating the sound, Broom on the closing remix of Refreshed and Lybaert on the opening mix of Skilled. The remaining six tracks offer more of a mind-meld, a symbiotic union between pliable pure plasticity and the more rigid Starfish Pool blueprint." Immerse #3

Minion - The Crash Session (SR006CD)
"I keep supporting this label of fine acid/techno music. Minion (not to be confused with the early 80's experimental Dutch rock band) is a collaboration between one guy of Unit Moebius and Starfish Pool. Their lengthy dance tracks show a definite interest in using ultra minimal dubby sound effects in the mix. Some of these tracks are maybe a bit too long for home listening, but will be dance floor hits." - Vital

Rude 66 - The Devil's Highway (SIRE 004CD)
"Overdriven 303s and cheeky humor are always a winning combination." ***1/2 IDM Detroit mailing list.

Various - Real Music For Abstract People Vol 1 (SR005CD)
"From one of the most sympathetic dance music labels, we have here a neat compilation, showcasing settled and future talent of Silver. The opening piece by Minion is right from the start a perfect example of the Silver sound: a minimal affair but with a highly danceable groove to it. There are some new names to be found here, like Syndic, Thrak, The Mellowtrons, but also the familiar Mark Broom, Lowground (which is Mark Broom and Starfish Pool), Rude 66, Unit Moebius and Starfish Pool. Tons of minimal acid techno and not really a bad track in sight...and prize-winner award to the Unit Moebius track." Vital

Various - Real Music For Abstract People Vol 1 (SR005CD)
"Silver has quickly become one of the top labels on the European electronic scene." Chart magazine

Brain Pilot Interface 3.0
LP/CD (Nova Zembla NZ 044B/CD)

A follow up to their recently released MCD Illegal Entry (NZ 043D), Interface 3.0 is the new full length album from the Van Elsen Brothers. Brain Pilot have advanced their sound to a new level of hard, pounding techno with dark, dense soundscapes. Interface 3.0 is wildly successful. Check it out!!!


---

Clutch Assembly Stumbo
CDS (Nova Zembla NZ 083G)

Hendrik Willemyns and Thomas Laureyssens are Clutch Assembly, a techno/trance act with crossover appeal into industrial dance. Check out the great cover of Wiseblood's Stumbo exclusively on the CD single! And don't miss the bonus track on the 12" version entitled Hard On (NZ 083E)!


---

Dr. Numa Lead
LP/CD (Nova Zembla RA 018A/RA 018B)

Dr. Numa, the Japanese "multi-personality, mad professor", brings you into his chaotic world of electronic hard ambient. Yoshimi Niinuma, better known as Sympathy Nervous and 02 Soul, creates many of his own electronic instruments and sounds. Organic constructions, breakbeats and electro hip-hop all in one eclectic mix.


---

Elysium vs WORM Elysium vs WORM
12" (Split Single) (Nova Zembla NZ 045E)

WORM ("Wanderer On Random Memory" a.k.a. Stef Osadzinski) is one half of the legendary Nova Zembla act Self Transforming Machine Elves. WORM uses excellent ethnic vocals, analogue synths and trancey beats and is "dedicated to the joy of dance". Kristian Thinning of Goa trance act Elysium needs no introduction. Elysium music is the anthem in the Goa scene. Now Elysium and WORM have combined forces and powers to make a eclectic Goa trance mix that will float your mind away to another dimension!!!


---

G-Force Black E.P.
12" (Kk Records Kk 158E)

G-Force is Belgium DJ Stanny's new project. With the Black E.P. he brings you a mix of minimal-techno and acid, electro and groovy techno. Stomping techno that aims at the feet! A powerful dancefloor booster!!!


---

G-Force Electronic Lesson Part 1
CD/DLP (Kk Records Kk 159B/H)

Here comes G-F with his first full length album Electronic Lesson Part 1. What a lesson in powerful, minimal techno and acid! Pumping electrica and great grooves!!! Teach us more!!!!

In addition to being resident DJ at Club Montini in Belgium, G-F also works with several friends as a dance party promoter under the name AP & Dion and is widely known in Europe and Australia.

---

Plastika Disco Mirror
12"/CDS (Ultraxx UL 004E/Ul 004G)

Tom De Neef (Calvin Stones/Swirl/Plastika) is back with more pulsating club tunes!!! This second Plastika release on Ultraxx contains two killer remixes by Natural Born Grooves that are definitely worth staying out all night for!!! Disco housey tunes that will blow your sox off!!!


---

Sielwolf V Remixes
CD (Kk Records Kk 124B)

Heading in the musical direction of the full length album "IV", Mick Harris (Scorn) remixes nine Sielwolf tracks into dark, dense, dub atmospheres with throbbing sub bass. These remixes take a leap forward in the dance music genre. By using new instrumentation, a strange new layer of hypnotising sounds have been created to mesmerise the listener.


---

Sympathy Nervous Fatty Parasite
12"/CDS (Nova Zembla NZ 073E/NZ 073G)

Fatty Parasite is Sympathy Nervous/Yoshimi Niinuma's new single and the follow up to the Therapeutic Writing album. This is a mind blowing attack that could cause some serious brain damage. Hard beats combined with acid loops, strings and handclaps. Check out the Carnival Remix of Fatty Parasite with its distorted beats and hip-hop samples!!!!


---

Unit Moebius Work
CD/DLP (Kk Records Kk 157B/Kk 157H)

Unit Moebius stand for minimalistic, acidic, techno and hard pounding, raw sounds with a seductive beat on the dance floor. Status was a big step forward into the "Techno Kingdom" and Work will be an even bigger leap with all new, never before released tracks. This is earcandy for the techno mob!!! Unit Moebius are one of the main creators of the Dutch underground scene.


---

Xingu Hill Relay
CD (Nova Zembla NZ 081B)

Relay is the third album for Xingu Hill, following the highly acclaimed albums Maps of the Impossible (NZ 035) and Fiction (NZ 068). The new full length is a continuation of the Xingu Hill musical development. Still dark and electronic but full of surprises and very rhythmical. This hypnotising music will keep its listener under the Xingu Hill spell!!!


---

Various Artists
Natural Born Techno 5
CD (Nova Zembla NZ 079B)

Natural Born Techno 5 features the best of the new wave of trance artists soon to be overwhelming America. As always these successful compilations present great value selling at the single CD price!!!


Artists: Elysium vs WORM, Clutch Assembly,
Bulbawee, Save A Prayer, WORM, Elysium, Kode IV



---

Various Artists
Natural Born Techno 6
CD (Nova Zembla NZ 080B)

Natural Born Techno 6 contains 10 tracks of hard, minimal, acid techno. A mind-blowing trip and a pleasing price!!!

Artists: Dr. Numa, G-F, Unit Moebius, Omicron, Delta Plan, Yellowcake, Noshinto, Seiko, Ra-X, Black Lung




---
SCORN
July 13/96 - Scorn Signs to Kk!

Mick Harris (Scorn) is leaving his current record company, Earache Records, and has signed a new deal with Kk Records. The first Scorn album release on Kk Records can be expected in early '97. His final album for Earache Records (titled Logghi Barogghi) will be available in August 1996.

History of Scorn (as of July 96)

Scorn was formed in June of 1991 to create rhythmic, hypnotic drum and bass-oriented music. Scorn's first recording "Vae Solis" was recorded in November of 1991. A heavy mixture of percussion and dubbed out guitar noise tracks, this LP was released in May 1992. Two tracks from this LP were re-mixed in psychedelic dub formation and the EP and "Lick Forever Dog" was released shortly thereafter.

In August 1992 the E.P. "Deliverance" was released showing a new, more focussed sound! "Deliverance" contains five mixes of the same track each with it's own unique sound. This release set the tone for the future of Scorn.

In November of '92 Scorn recorded a new LP titled "Colossus" which showed without a doubt Scorn's ability to progress and work with dubbed-out rhythms and atmospheres.

As with "Deliverance", a five track single was released from "Colossus". The brilliant track "White Irises Blind" received five unique treatments and was very well received!

January 1994 brought us the "Evanescence" LP. Scorn's evolution was still moving forward using atmosphere and dub workouts. Based on "Evanescence" was the 9 track re-mix record called "Ellipsis" featuring such artists as Bill Laswell, Coil, Meat Beat Manifesto and Autechre. A limited edition vinyl box set featured an exclusive mix by Coil.

In 1995 longtime collaborator Nik Bullen was fired leaving Mick Harris to consider the direction of Scorn. The next Scorn release "Gyral" was recorded in Mick's Black Box studio, and was a new stripped-down "dark hop" - using minimal grooves, sub bass and intense atmospheres.

The next release for Scorn (Logghi Barogghi) is set to be released in August '96 and will be the last release with Earache Records. Mick is now ready to concentrate on new records for Scorn in '97 with the backing of Kk Records!

News: Spring 97

Scorn is going on an extended European tour. Invisible/Caroline is releasing the Zander album in the US on the 17th of February, 1997.

For more info about Scorn, check out the Dub Terrorist site.




---



SIELWOLF
July 13/96 - New Sielwolf Due in August

German dark noise experimentalists Sielwolf release their second KK full-length CD (their fourth overall) on August 19. Titled IV, this breakthrough CD of rhythmic explorations will feature no vocals and represents a new musical direction for Sielwolf. IV is produced by Mick Harris of Scorn. Other upcoming releases include Omicron's Colonization EP (Radical Ambient), Xingu Hill's (fiction) CD (Nova Zembla), and 02 Soul,'s Spring EP (Nova Zembla).

News: Spring 97

Amstel, the Dutch beer company, is going to use one of the Seilwolf's tracks for a commercial.

Riou is touring Europe in March with dates in Belgium, Germany and the Netherlands.

Natural Born Grooves remixed two tracks on Plastika's new 12" Disco Mirror.

In April, a new Natural Born Techno will be released -- nomero 5 in this prestigious series.

Return to Top

---