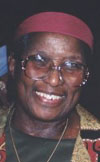 LET'S HEAR THEM SPEAK
By Phyllis Ntantala

This book is the brainchild of South African Women for Women, a young organization of South African women in Canada. When Carole Adriaans, the President, called to ask me to put the voices of these African women in print, I jumped at the idea, saying: "These voices, seldom heard, are going to be heard today and with the many contacts I have throughout South Africa, it would not be an impossible task even from this distance."

We salute this young organization, South African Women for Women, for what they have done and are doing, namely, to provide college scholarships for women in South Africa, and for recognizing the many unsung heroines of South Africa, women who have served their communities in education, health services, the arts and liberation movements. This organization has unearthed a good many of them, people we never knew or heard of, for what they were doing never hit the headlines. So, as far as the ruling class media was concerned, they did not exist and what they were doing was not important. Our tragedy in South Africa, especially we, the blacks, is that as a subordinate, marginalized group, our heros and heroines have always been chosen for us, built up by the ruling class through its media and sold to us. We never even stopped to ask: "Why does the ruling class pick up this one from among us, throw him up as an icon at this time? What is their agenda? Is their agenda our agenda too?" This is how we become seduced by personalities.

The true history of South Africa is still to be written. It will be written by non-partisan scholars who have no axes to grind; people who will not promote one group over all the others. To get at the truth they will have to traverse that country, criss-cross the linguistic and cultural divide to give us an unbiased, balanced story of the people of that country, how they interacted with each other and how, together, they built our country. It is our hope that our women will be part of that endeavour, for, as we know, throughout the ages and among all peoples and cultures, women have been the repositories of the histories of their groups, for they are the Tellers of Tales.

In the introduction to the book An African Tragedy? African Women Under Apartheid (Agascha Productions, Detroit, 1977), I write: This is the story of the black woman of South Africa. It is a story of wives, mothers and their daughters whose lives have been one long song of woe, tears and death. It is a story of love and sorrow; of hope and despair, a story of beautiful dreams whose pieces lie shattered at the dreamer's feet. It is a story that tells of a noble band of women, who, with fortitude and courage, have refused to allow themselves to be overcome by their condition. It is a story of man's inhumanity to man.
We are aware of the suffering of the women of other groups. We acknowledge their contribution to South Africa. We acknowledge their contribution to South Africa. We are not unmindful of their role in the Liberation Struggle. Some of these women have suffered much and have lost as a result of their involvement to make South Africa a better place for all.

But it is the African women more than any others who have borne the brunt of oppression in that country. They have borne it with patience and courage and above all, they have remained human.
ABOUT THE AUTHOR:

Phyllis Ntantala was born to a priviledged Transkei family in the 1920's. Her earliest memories are of a relatively privileged childhood and it is her upbringing and resultant experiences in this region that lend vivacity and spirit to her stories. She attended school in Healdtown and Lovedale, followed by a degree course at the University of Fort Hare. She continued her education and received a BA from UNISA followed by a Comparative African Government and Law degree from the University of Cape Town and an Early Childhood Education qualification from Madison Area Technical College.

Her life is chronicled in her book "A Life's Mosaic: the Autobiography of Phyllis Ntantala", published in 1993 by the University of California Press. The book is not of a struggle to escape poverty and obscurity but tells the story of a creative and articulate black woman's search for identity and fulfilment. What makes Phyllis' book so unusual is that her world cuts across apartheid. Her parents emigrated to the USA in the early 1960s, just as the apartheid net began to tighten but Phyllis and her family found no escape, as they found racial discrimination to be just as prevalent in the USA.

A combination of Phyllis' own politics and feminism led her to pursue various careers. She has been a teacher, social worker, linguist and author as well as an activist. In her role as an author her books and writings have been translated into several languages and have received critical acclaim worldwide. She was recently awarded an honorary Doctorate of Philosophy by her alma mater in recognition of her life's work.
Apart from her autobiography, Phyllis is the author of several books, articles and essays. She recently composed "Ah! Rolihlahla" an epic poem in Xhosa (with English translation) which was published by Amelia House in 1988 to celebrate Nelson Mandela's 70th birthday.

Phyllis has had a life filled with rich experiences as the wife of the pioneering scholar A C Jordan, and the mother of ANC activist and intellectual Pallo Jordan. She continues to share her life's experiences through her writing and is currently working on several projects including a comparative study of international folklore, translations, and historical sketches of early missionary schools in the Eastern Cape.
Phyllis is also well known on the speaking circuit and has covered issues from literature, education, women's issues, and economics of apartheid, to South African politic issues in general. Phyllis has also participated in numerous conferences and discussion forums in South Africa, Europe and the USA