LILLIAN LYDIA NOMATHEMBA CINGO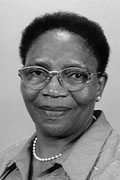 Dr. Lillian Cingo, the recipient of the Health Care Services / Public Service Award, has been the Mnager of the Phelophepa health care train project since 1995 and is a highly qualified and experienced medical professional.
---
Lillian spent thirty years of her life in London, England, gaining professional training in medical and paramedical fields. Later she was one of the students who was awarded a scholarship by the Canon Collins Educational Trust – London. This enabled her to study for a year at the Tavistock Clinic – a training that has been very useful towards her work in South Africa.

She holds a postgraduate qualification in neuro-surgical disciplines. She is also qualified in tropical medicine for nurses and holds a diploma in psychology, a certificate in counselling, a master's degree in counselling psychology and a certificate in HIV/AIDS counselling.

She was twice nominated Nurse of the Year in London during the 1970's. In 1975 she was presented to Queen Elizabeth as the best neuro-surgical nurse in London.

Since her return to South Africa, Lillian, together with her team, has literally been bringing health care to the people of rural South Africa on the Phelophepa health care train. Phelophepa translates as "good, clean health". It started as a relatively modest project operated by the department of optometry at Rand Afrikaans University (RAU).

It sought to bring basic eyecare to remote communities while at the same time giving the university's optometry students hand-on experience with real patients.

By 1994 it had expanded to 13 carriages and an engine and provided basic medical care by groups of final-year and postgraduate students from various institutions. The train now has a complement of 57 people and sees close to 45,000 patients a year, covering 15,000 km of rail across four provinces.
For her efforts in bringing health care to those who would normally do without, Dr. Cingo is being widely recognized.

During March 1998, she received a Probe Dental Award from the British Dental Association for her role in bringing health care services to rural South Africa.

Lillian has been nominated for recognition in the sixth edition of the American Biographical Institute's "International Who's Who of Professional and Business Women" and was also nominated as their Woman of the Year – 1999. This Institute has further nominated her to appear in the "International Who's Who of Professional and Business Women's Hall of Fame".
The International Biographical Centre in Cambridge, England recently nominated Lillian as one of their 2000 twentieth century Intellectuals.

During 2000, in further recognition of her work, she received an Honourary Doctorate in Education from the Tavistock Centre and the University of London East, UK, and the degree of Doctor Curatonis, Honoris Causa, from the University of Port Elizabeth, SA.

She is a joint winner in the Health Category of the Shoprite Checkers SABC3 Woman of the Year 2000 Awards.
During the first half of 2001, Willamette University, Salem, USA, conferred upon her the honourary degree of Doctor of Public Service.

The Phelophepa health care train project puts into action Lillian's motto: "Health for all, physically and emotionally, hand-in-hand with reconciliation and nation building".

South African Women for Women is proud to recognize the innovative and exciting work done by Dr. Lillian Cingo and her co-workers on the Phelophepa train.