Charles Francis Wooler's
Letter to His Sister


This card was sent by Charles Francis Wooler
to his sister explaining why he joined up in 1915.

This brief note reflects the mindset of those boys so well.

- donated to this site by Kathy Perow – Charles' niece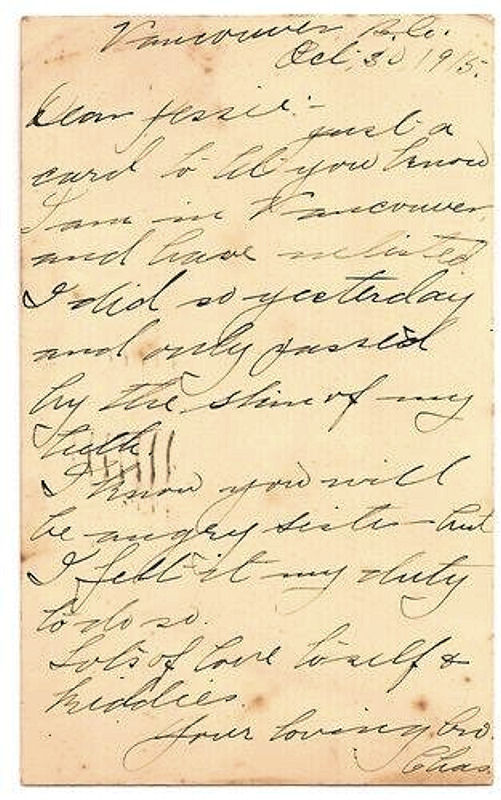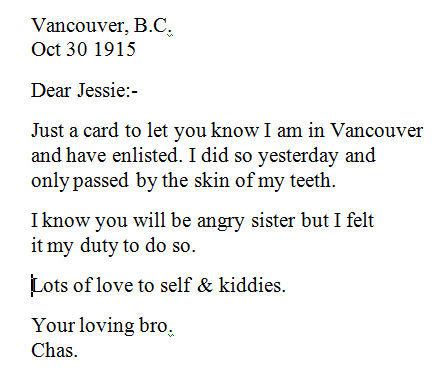 *****************
Private Leo Kelly's
Letter Home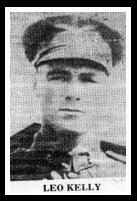 I would like to thank the Reid Family of Brampton, Ontario for sharing their grandfather's letter. As you will discover, Private Kelly's clarity puts us very much in place at Vimy Ridge on that fateful day of April 9, 1917.

Dear Readers,

I

first heard of Vimy Ridge and trench warfare as a high school student sitting in Mr. Stephens' history class. We watched movies like "All Quiet on the Western Front" and attended Remembrance Day services. It would not be until years later however that I came to fully understand what it was I was to be "Remembering". This epiphany came to me in the form of a letter, a lost piece of family history. My maternal grandfather wrote this letter from his hospital bed where he was recovering from wounds sustained in the battle of Vimy Ridge during W.W. I.


Some historians would say the Canadian victory achieved on Vimy Ridge changed the outcome of the war and helped shape the country we live in today.

This letter is my grandfather's, account of the battle.

Heather Reid,

Brampton, Ontario

, Canada

Pte Leo Kelly, Fulham M. Hospital
London W., 6, H.1.W.

Mr. P.M. Kelly;

Dear Father,

I am writing to you a short story on what took place in the great battle won by the Canadians on Easter Monday on Vimy Ridge.

On the morning of April 9th between the hour of five-thirty or six o'clock was the time selected for the Canadians to make the big drive on the Germans at Vimy Ridge. All day Easter Sunday and all that night the boys worked hard preparing for the awful work which they had before them still they never faltered but I laughed and sang as if nothing was going to happen. We all spent the night in a tunnel about forty feet in the earth. It was the only safe place around Vimy Ridge then for it was about as much a hell hole as one would want to be in.

About three o'clock that morning we had breakfast which was a very good one. It consisted of bacon, bread, butter, tea and oranges, a meal we do not get very often out here. I guess the cooks opened their hearts for once. They knew the boys would have a hard day and that it would be the last meal for quite a few of them. Never the less our Battalion was very fortunate in the line of casualties, which I think was quite light.

After breakfast we got our issue of rum, which was rather small, but we don't need rum to fight, all we need is grub and cigarettes. Well, Father, it was getting near the time for work. We got the order " get ready" which we were not long in doing. We had a heavy load to take across. I was in the Machine Gun Section and had to carry ammunition for the gun. We then lined up in the trench, got into position, fixed bayonets; everything was as quiet as a mouse. The Huns knew we were going over but little did they expect us on that morning. We did not have long to wait. Out engineers blew two mines that ran under the Hun's front line. This was a signal for the artillery. The explosion was hardly heard when many thousands of guns both large and small opened a terrific barrage on the Hun front line. The boys waited no longer, they went over the top in a moment, making their way bravely across "No Man's Land" to meet the Germans. To our surprise when we got there we found the line quite empty as the enemy could not stand our terrific artillery fire and fled for shelter to their dugouts and were taken prisoners. The barrage was now playing on the German's second line, which was our objective, so we pushed over the shell ploughed ground, mud and water to the waist. Men were falling here and there but still the boys kept on.

Our gun crew got scattered. The man who carried the gun and I we were alone and we did not go far when he fell. I turned him over but he did not move. I could not wait so I picked up the gun hoping to get it to the second line safely, for a machine gun is a great weapon against the enemy. It fires six or seven hundred rounds a minute. But luck was against me for I did not go very far when it was smashed to pieces on my shoulder; it had been struck by sniper fire. I was not hurt and I did not mind the gun only I now had no weapon. I had thrown my rifle away when I had picked up the machine gun. All I had was a revolver but it would not work for mud. I reached the second line safely, I seen Jack and Leo McGuire and they were O.K; they said it was great sport.

Well father, I was looking for souvenirs when I got hit with shrapnel in the left hand. One of our officers sent me out to a dressing station, so they kept me going until I finally arrived in a London hospital. It was a beautiful place and the people were so kind especially the young nurses. Well Father, if the town people of Pembroke had seen the Pembroke boys of the 130th battalion (now the 38) go through the Hun that morning they would not say that they were Kitchener's last hope. There are quite a few Pembroke boys in the 38 Battalion.

Well father, I guess I will ring off, wishing you all had a Merry Easter and eat some eggs for me.

Your loving son,
Leo Kelly

Many Thanks to the Reid Family of Brampton, Ontario for sharing this letter.

******************

Back to Page Two and the Photo Gallery

page 4 - Guests' Photographs and comments

back to ....

last updated: May 2012