The Spanish River
proposed plan of the "Ontario Living Legacy: Strategy" of March, 1999
(formerly Lands for Life)
Reports and maps can be obtained from:
www.mnr.gov.on.ca/MNR/oll/contents.htm
Overall it's good news:
all of the river shore is protected, including the West Branch of the Spanish
there are significant new parks with old growth that we paddlers never knew about: there, the land and its wildlife will have a chance to stay as we know it.

| | |
| --- | --- |
| | Spanish River Park |
| | Bisco Lake Park extension |
| | Mahzebong Park |

I am looking forward to exploring these forests. Maybe we will find a few more side-routes to explore...

the protected areas permit no logging, no mining, no building of dams
a number of conservation areas add to the protected area, ensuring the local flora and fauna can survive in enclaves
additional protection for old growth forests (Shakwa, Rushbrook and Marion Lakes) may be included

But:
the park above the forks is a narrow strip only; no detail of the width is given.
the left shore of the river past the forks is insufficiently protected
there is an inconsistency between text and map. The text indicates a "more than 80 km long" park while the map shows a length of about 80km (Fork to a Agnew), plus 40km (East Branch) plus 40 km (West Branch). I assume that the map is the authoritative source (that's how this proposal was determined, by working through the maps).
this long ribbon-like park will be broken by gaps that will permit the building of bridges for logging roads: "Road construction across waterway parks: Efforts will be made to specifically identify required crossings for forestry purposes prior to regulation."
hunting permitted in new park areas: "Permitted in all new parks and additions except Nature Reserve parks and zones. Hunting permitted in additions to wilder-ness parks."
there is a threat to permit mining in the parks: "Controlled mineral exploration is permitted in very high potential areas. If a site is to be developed for a mine, it would be deregulated, and a replacement area added to the park."
enhanced management areas permit logging and mining, with yet to be defined restrictions.
"[Spanish River Valley:]...Three EMAs covering 29,200 hectares have also been identified where management will give careful consideration to the larger area's natural values and recreation potential."
I see this as an area where we as nature lovers and canoeists will have to participate to ensure that the land is protected according to our values.
The million-dollar question: shall we support this proposal? In my opinion, we must and rather use it as a tool to get protection defined for very specific real estate. Get the stake into the ground!
We must ensure the plan will be implemented in the spirit that it was drawn up. It gives protection for the Spanish River canoe route from loggers and hydro development. Additional protection of several other areas with old growth forests and nearby lakes will ensure that there is not just a facade of protection, but that large tracts will support a natural and indigenous environment. This plan, if implemented, will allow us to keep paddling the old river trails and will permit future generations to share in this nearly physical and spiritual pursuit, something that defines our values and identity.
Our strategy should be to support implementation, and to ensure that the weak areas of this proposal will be strengthened rather than diluted by the distracting forces. Time is in our favor: industry realizes that they need environmental support to market their products and governments are eager to please with an election in the offing. This is our chance to act in foresight, just as the few did that created Algonquin Park and Killarney in their days long past. The worst thing we could do now is to disolve in discord and lose the momentum of an environmental breakthrough for Ontario. I shall send a letter in support and express that:

that it is a good plan and there should be a speedy approval of the proposed new protected areas

I am keen to see an implementation of the Enhanced Management Areas that supports conservation. I expect that the public will be able to participate when the details are worked out.

I strongly approve the process for future additions (as promised in the report) to complete
representation and the parks system: I will suggest to widen the park land of the upper two branches

I strongly oppose changes to Parks Planning Policies and Conservation Reserve Policies that would give general approval to sport hunting in all new parks and conservation reserves, motorized access, new commercial establishments, and guarantee mineral exploration in high potential potential sites within new parks.

I hope you will do similar:
(lflcomment@webmail.mnr.gov.on.ca)

Hon Mike Harris
Premier of Ontario
Legislature Building, Queen's Park
Toronto ON M7A 1W3
Fax: (416) 325-3745
Tel: (416) 325-1941

Here are the gory details of the plan: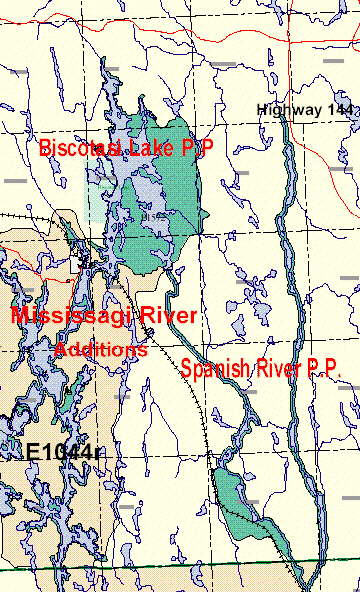 Left: Upper Spanish, with east and west Branches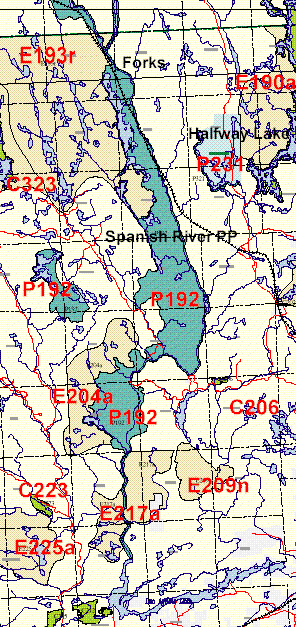 Right: Lower Spanish, from Forks to Agnew Lake
Area ID in report
Area (ha)
Name
Proposed Land Use
Category
Land Use Intent
P192
37,125
Spanish River
Provincial Park
Waterway
This provincial park area includes the following significant core natural heritage areas: Agnes River Old Growth Pine Forest; South Rushbrook Old Growth Red and White Pine Forest; Craig/ Toflemire Old Growth White Pine Forest; Spanish River Ice Contact Delta; and Spanish River Valley and Old Pine Forest.

Additional old growth white pine forest areas near Shakwa, Rushbrook and Marion lakes may be added to this provincial park, if discussions with the forest industry can identify comparable alternate harvesting areas as replacements

P238
60,836
Mississagi River Additions
Provincial Park Addition
Waterway
The various additions to the Mississagi River Provincial Park include the Rocky Island- Kindiogami Lake, Wakomata- Snowshoe and White Owl- Red Pine Lakes Complex natural heritage areas. The Mississagi River Park between Aubrey Falls Provincial Park and Bark Lake and between Bark Lake and the new Mozhabong Lake Conservation Reserve will be expanded from 120 metres wide to 200 metres wide. This area will be expanded to include an area around Marty Lake in Assad and Comox Townships, and two areas straddling the river in Scrivener and Shulman Townships. The Wakomata Lake area may be considered as a natural environment class park in combination with the Raven Lake portion of the Little White River.
P1572
14,003
Biscotasi Lake
Provincial Provincial Park Addition
Natural Environment
C206
150
Centre Creek
Old Conservation Reserve
Old Growth white Pine
C223
425
Flat Creek Old Pine
Conservation Reserve
C323
4,315
Mozhabong Lake
Conservation Reserve
Conservation reserve boundary consists of a 120 metre wide area around Mozhabong Lake, as well as the interior islands and peninsulas.
E193r
34,461
Sinaminda and Kennedy
Enhanced Management
Recreation
This is an important remote tourism, recreation and resource sector Lake Area Area (forestry, mining) area. Portions of this area to be managed for remote access/ tourism (e. g. Kennedy, Bluewater lakes), per existing Crown land management practices. Land use direction and resource management activities within this area to be compatible with protecting the natural and recreational values of the proposed River Provincial Park.
E204a
8,627
Atcheson Lake
Enhanced Management
Remote Access
This is an important recreational and resource sector (forestry, mining) Area area. Minor boundary adjustments may be made to this area through further planning exercises. Land use direction and resource management activities within this area to be compatible with protecting the natural and recreational values of the proposed Spanish River Provincial Park.
E217a
7,877
Swann Lake
Enhanced Management
Remote Access
Manage this important recreational and resource sector (forestry, mining) Area area consistent with the enhanced management area (remote access) policies and the existing provisions of the MNR Espanola District Land Use Guidelines limited access area provisions. Minor boundary adjustments may be made to this area through further planning exercises. Land use direction and resource management activities within this area to be compatible with protecting the natural and recreational values of the proposed Spanish River Provincial Park.
E225a
7,271
Savage Lake Area
Enhanced Management
Remote Access
Manage this important recreational and resource sector (forestry, mining) Area area consistent with the enhanced management area (remote access) policies and the limited access area policies of the MNR Espanola District Land Use Guidelines and local resource management plans. Minor boundary adjustments may be made to this area through further planning exercises. Land use direction and resource management activities within this area to be compatible with protecting the natural values of the proposed Flat Creek Old Pine Conservation Reserve.
E1044r
31,632
Biscotasi Lake
Enhanced Management
Recreation
For comments, email to erhard@interlog.com
Click here to get back to Erhard's Home Page