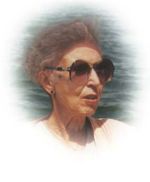 Carol Martyn
Curriculum Vitae
---

Carol Martyn was born in Stratford, Ontario, Canada, in 1916, one of four children of Harold Martyn and Mabel Rickard Martyn. Harold Martyn was principal of Stratford Normal School, the regional teachers' college.
Carol studied at Victoria College, University of Toronto, from 1934-36, and at the Stratford Normal School in 1937.
From 1938 to 1944, she taught primary school in New Dundee, Ontario, and Stratford.
In 1945, at the end of World War II, Carol moved to Toronto to work as a ticket agent for Trans Canada Airlines (now Air Canada).

---

In 1950, in part to cope with the death of her father in 1948, Carol begins night courses in drawing with Aba Bayefsky at Central Technical School in Toronto. In the following decade of night classes at the Artists' Workshop in Toronto, her instructors include John Hall and William Winter.

She begins to travel to the art meccas of Europe, Mexico and Central America. In 1962, she spends a full year studying drawing, painting, sculpture and design at Instituto Allende, the world-famous art institute in San Miguel de Allende, Mexico.

---

In 1965, Carol rents a studio in the nascent Mirvish Village area of Toronto, producing her Hexagon series (Homage to James Pinto #2) and exhibiting in group shows in Toronto and San Miguel.

In 1971, her Time Warp series is featured at her first major show, at Toronto's Aggregation Gallery.

Carol moves her studio to Toronto's soon-to-be-trendy Queen Street West area in 1973, in a building housing several other studios and an art gallery.

1976 is a year of triumph and tragedy, with Carol's first solo exhibition at Bau-Xi Gallery in Toronto, across Dundas Street West from the Art Gallery of Ontario. Her younger sister, Joy, dies of cancer, aged 56. The next year her niece Paula is struck by a car in France, and returns to Canada in a coma. With constant care and family devotion, in significant measure provided by Carol, she regains consciousness and through the following years, comes to live independently.

In 1980, Carol moves her studio to Davenport Road, sub-letting a small space from artist Vera Frankel. The following year she retires from Air Canada, at age 65.

In 1982, Carol's sister Florence, a teacher and high school guidance counsellor with whom she has lived since the 1950s, dies of cancer. Carol begins a series of paintings and eventually, sculptures, of Nests into which are woven mementoes of the important lives which have intersected with hers.


---

1986 is a year of almost unbearable tragedy, as her nephew, fabric artist Tim Jocelyn, dies of AIDS and his sister Paula is again the victim of a car accident, which this time kills her.

Carol's Nest series evolves into sculpture, while her hitherto abstract painting explodes in images of political and feminist consciousness with Gorilla-Guerrilla, Viva, Women's Committee, Wounded Woman and similar works.

In 1987, Carol takes a studio in a disused factory on Landsdowne Ave., in west-end Toronto, which now houses a virtual artists' village. She begins her Unknown Woman series (Unknown Woman #1, Unknown Woman #2, Unknown Woman #7, etc.), continuing into the 1990s with works like Lola - The Revolutionary and her nine-part Goddesses (Artemis, Chloe, etc.).


---

In the midst of photographing and cataloguing the body of her work for the lifetime retrospective show, Carol begins her landscape series (Non-Linear Landscape).

At the end of July, 1995 -- a few months before her lifetime retrospective show, Art Making Life, opens at The Gallery, in Stratford, Ontario -- Carol Martyn dies of cancer.


---